We have collected some of our lovely testimonials and thank you notes from our clients over the years, if you have visited us before and wish to leave us a testimonial feel free to do so via our contact page or email us directly, we really appreciate those as they really inspire others and remind us why we love doing what we do!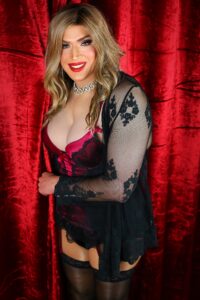 I had an amazing visit to BWBG and Cindy.  
Cindy used her expertise to bring out Nikki.  The makeup was perfect and the wigs and outfit really completed the glamorous look.  Looking in the mirror, I couldn't believe the beautiful woman looking back was me.  Nikki looked like a movie star.  I absolutely loved it!
As for the photos, they are the perfect reminder of a wonderful time.  They are really high quality.  Cindy gave great direction and posing advice.
I look forward to visiting again.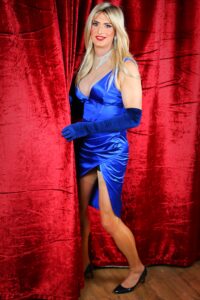 So, what are you waiting for? I know, it took me some time too. This was Amanda's first, nervous step from the comfort of the closet she has been hiding in all these years. A big step indeed then for Amanda. Especially in high heels. But I can promise that like me, your only regret will be not having visited Cindy sooner. Truly, this was an amazing experience. Everything I was hoping it would be, and then some. Nervous? Not for long. Cindy's calm, gentle kindness soon put me totally at ease. And then the transformation began. OMG. Amanda has never looked anything remotely this good. Is it wrong to fancy yourself…? Cindy is just a magician. And so helpful: happy to encourage me to choose my own style but equally ready with suggestions for makeup, looks and clothing when asked. I don't think I am vain, but honestly, once Cindy had done her stuff, I could not stop admiring myself in the mirror.  And that was before I had slipped into a couple of gorgeous dresses for the photoshoot. Talk about being a child in a sweet shop faced with rack upon rack of beautiful outfits to choose from. Wow. I was honestly on a complete high not just for the rest of the evening, but for the next few days. And then the photos arrive! This was an experience Amanda will never forget, and cannot wait to enjoy again. And if you have read this far, so should you ……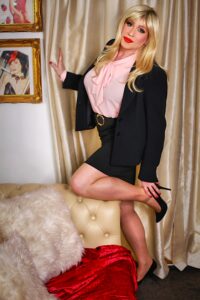 Hi Cindy, I just wanted to leave a testimonial for the fabulous service you and Victoria provide. I've visited 7 times now, and it's always a fabulous experience coming down, you always make me feel incredible. The makeovers are always stunning and the pictures are wonderful. I love chatting with you both, and you're so kind…and I'm grateful you still put up with me!!😁 I look forward to my next visit. Thanks Cindy.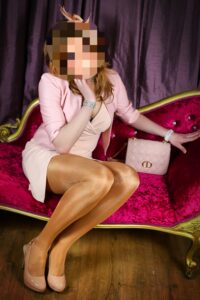 I visited BWBG still very new to the world of dressing, but as soon as I entered the door, Cindy made me feel very welcome and at ease. From choosing appropriate shapewear to get the perfect silhouette, the truly glamour plus makeup look and the great teeming of outfits and accessories….it really was perfect from the start. As anyone else will tell you, those first pictures you see of yourself taken in the studio will absolutely take your breath away. Cindy truly has the secret to make someone feel truly beautiful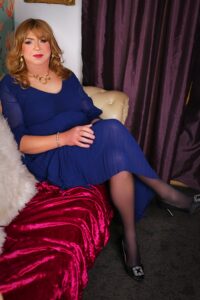 Time for me to write some few words about that amazing experience I had with Cindy! I'm used to dress as a woman since I'm very young and you all know how difficult it is to look as perfect as a woman can be! Cindy can do that for you, it's amazing what she realise with me, I was in another world, feeling so fine! The makeover first, with a great attention and such a kindly person, so friendly, you feel very confident, I promise to you, an unbelievable experience. And after the make up, Cindy has an incredible collection of outfit and she knows exactly what will fit to you, she is very attentive and really take care of you! I promise to you girls, I think it was the most amazing experience of my life!
You are more than welcome, no judgement Cindy and Victoria are such incredible and nice people, I will go back as soon as possible cause I have a lot of thing to learn in their company to become the woman I have ever wanted to be!
Many many thanks for this afternoon
Massive thanks to Cindy and Victoria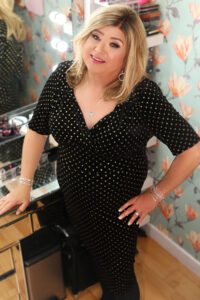 I am so lucky to have found Cindy.  As a senior AMAB, recent events have permitted me to freely explore who I am and whom I wish to be.  Cindy welcomed me into her studio and right away I knew I was not only in the hands of a master, but also in the hands of a friend.  She fostered me through the entire process: this was my first – and far from my last – photoshoot.   I can promise you that many more will be with her.
She offers an extensive wardrobe of wigs, dresses, pants, shoes, and nails.  You really needn't bring anything.  (Just keep in mind two things:  that if you arrive her studio without any femme accoutrements already in place, the time needed to change into femme clothing will consume some of the time you have booked.  And, second, Cindy is extremely popular.  Therefore, do not expect your session to go long.)
I booked a four-hour session and it was non-stop – and absolutely delightful.  During the application of makeup, I kept my eyes closed waiting for the Big Reveal.  (Hey, don't judge.)  And when I opened them, I started tearing up from happiness.  Never has an artist taken such a clump of raw unfinished clay and transformed it into a, dare I say, a pretty woman.
Thank you, Cindy, for your kindness, stewardship, and – well, hell – just spectacular results.  I wait with unfettered excitement that we shall meet again.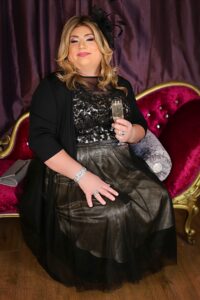 Wow! Just Wow! I had an amazing afternoon being transformed by Cindy. She is such a beautiful woman, an amazing person who makes you feel totally relaxed and at ease in front of the mirror. Cindy has such a great choice of outfits, shoes and looks. You will be wanting to come back for more!
Also a great photographer and she can get you to do the best poses! I highly recommend Cindy. It was great to meet her and Victoria. To pose on the famous red couch and follow in the heeled footsteps of so many beautiful BWBG is something I'll never forget. Thank you!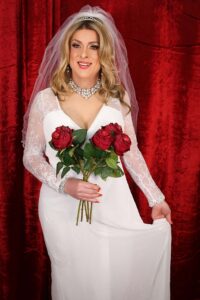 I had one of the most wonderful days of my life today: a 4 hour session with the amazing Cindy. She is a magician! And makes one feel so completely welcome! My only regret is that, as someone who lives in Canada, it's unlikely I'll ever have the opportunity to do it again. But I'll have some incredible photos to remind me of the experience. If you've been wondering whether to have a session: book ASAP: you won't regret it.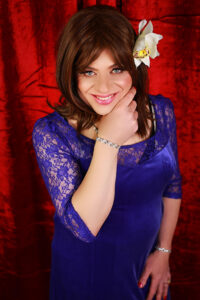 I'm a transvestite and a BWBG session offers a comprehensive experience including a makeover – make-up, wigs, etc – photos and an optional walk outdoors. Cindy works with remarkable concentration and with a meticulous attention to detail. The ambience is friendly and relaxed.
I'm in my mid-60s and hadn't dressed this fully and with make-up or gone out dressed for around 35 years. I was hoping to look like a version of my younger female self that had aged gracefully and, perhaps, elegantly.
I was pleasantly stunned when Cindy had finished my make-up and tried a wig on me. And once I relaxed more contentedly into being Sandra and started to smile, I was overwhelmed with happiness: my hopes and expectations were massively surpassed.
Then we went for a walk in the cool early evening air. I felt great.
Then the photo sessions where I relished being the centre of attention. And I now have a brilliant collection of photos from the walk and the studio photo session.
I'm so looking forward to when I can book another session.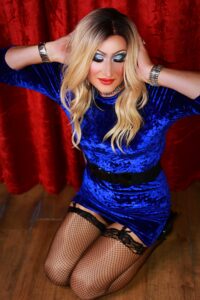 Cindy at Boys Will Be Girls is the best dressing service I've ever visited. The name Dressing Service doesn't do what Cindy does justice. She is a magician. Not only does she have the most amazing, beautiful selection of lingerie, dresses, wigs and shoes to create a look that reflects exactly what you want to achieve but her make up skills are fabulous. She can create the right look at just the right moment. As a professional make up artist she knows what shades and colours will work best on your face. And on top of this, she's a great photographer.
I'm Lisah French and I've visited twice so far for the Diamond Photo package and the results have taken my breath away. I plan to visit as often as I can. But there's more! Lisah is a reasonably confident girl but Cindy has done so much to build her confidence so much higher. Before, I used to feel I was impersonating Lisah but now I feel I am Lisah – physically, emotionally and mentally. That's a huge step.
If you've not been to BWBG yet. Go now! It is worth every penny. On top of all this Cindy is just a lovely, gorgeous person. You are made to feel welcome from the moment you step inside.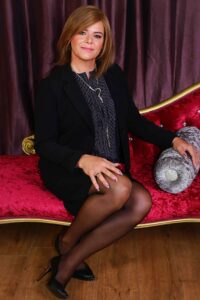 My 3rd time at BWBG, this time for a photoshoot with 3 different outfits. So much fun! Cindy is a master stylist, their collection of clothing and wigs is seemingly unlimited, and they are just so so good at making you feel relaxed and enjoy the whole experience.
5 years ago, BWBG helped me go out in public for the very first time (and feel comfortable about it too!), for a friday night dinner. Some time later they helped me go out in broad daylight, shopping, drinking coffee, riding the underground back home. They have been essential in giving me the confidence and abilities I have today, I dare say they are not only a dressing service but a full coaching service of life-saving importance. <3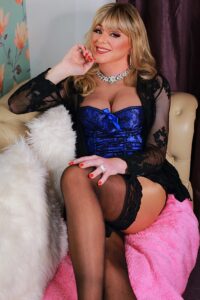 Fantastic experience with Cindy at the Boys Will Be Girls makeover and photoshoot. I got to try 3 different 'looks' and Cindy was very patient and careful to take plenty of pictures of each look. I felt really pampered and special and couldn't be happier with the pictures I received. Try it yourself – you won't be disappointed!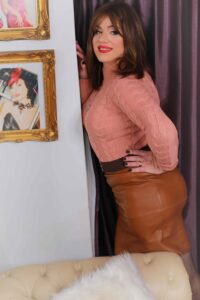 Cindy Conti is a makeup genius and she always makes the girls look their absolute best and she goes out of her way to help and get the best look that you can. She has a fantastic selection of clothes and she has a makes you feel welcome and at home.

Cindy took about 450 pictures of me in five different outfits on the day. Each look was tailored to my idea of the sort of thing that I wanted to achieve and I was super happy with the results.

I will definitely be heading back there again next year to see her!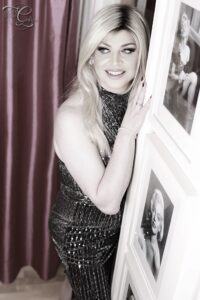 Boys Will Be Girls is the premier dressing service, offering new and experienced dressers the opportunity to see their full potential as the woman they could have been. I highly recommend this service, having been many times myself, and simply cannot speak highly enough of the lovely and talented Cindy who runs the service. If you want to experience the 'wow" factor of seeing yourself as a beautiful woman then a visit to BWBG is a must xx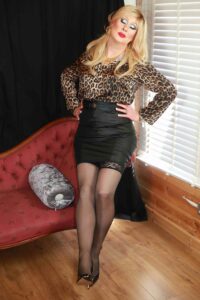 An excellent and absolutely wonderful experience! As a trans person in all of my year's, never before have I looked or felt as feminine on the outside as I know I am on the inside. This service provides a superb service for people like me who need a helping hand to bring out the woman that resides within me. They are patient, generous and expert in not only make-up but also what clothes work for your size and shape and how to style it too. I cannot recommend them highly enough! 🙂 XX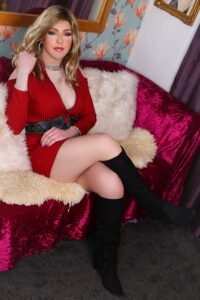 I had a wonderful time thank you, I missed the whole experience. And I really enjoyed it, taking the photos, and that is easily the best I have ever looked!
I felt like a girl, I looked like a girl, I became a girl! It was a lovely day.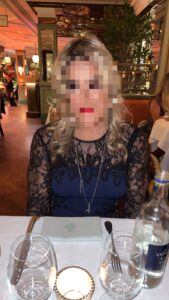 I had the pleasure of having my first makeover and outing with BWBG.  What a fantastic experience. I'm from the US, and it was the icing on the cake of a wonderful week in London. 
The pictures on their site tell the true story of their work:  they WILL turn you into a beauty (I couldn't believe what I saw in the mirror). 
And, you will find: 
—your fear and anxiety dissipate immediately. 
—you will have a great time. 
—you will enjoy the feeling of femininity and be validated.  
—you will be treated with patience, encouragement, advice, and kindness.  
—you will feel safe and secure at all times. 
The outing with Victoria was quite an experience, having never been out like that!  I pushed through the fear and found that walking through the streets of London and going to a crowded restaurant at the peak of Saturday night dining was really no big deal.  It was empowering as they have a wonderful connection with the businesses to which one is brought.  We were treated like VIP customers.  Later Victoria got us into a bar that was teeming outside with wanna be patrons who could not get in.   We entered with ease.  We sat, had cocktails in an establishment with the spectrum of gender and sexual identities.  The whole thing was just FUN! 
I didn't want the evening to end. But at 1 am it was time to return.   I left Cindy and Victoria with not a trace of makeup.  
I look forward to another evening with BWBG the next time I'm across the pond! My advice: Go for the whole experience! You will have an amazing time.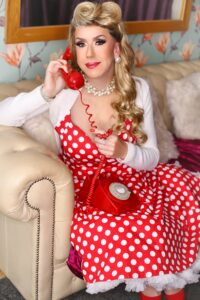 I met Cindy a month ago after 45 years of not knowing how I would look fully dressed and doubting if I ever I would be brave enough to try. I wish I had done it years ago! 
Cindy is more than a magician in terms of not only what she can do with make-up and clothes, but also what she can capture with her camera. She is also a lovely person who has the patience, makes the time, and uses her skills to make you feel relaxed, comfortable, and also totally feminine. I have visited twice now and both occasions have been awesome. 
The first session, the one where you don't know what to expect and have self-doubt and butterflies as you ring the doorbell, was phenomenal for me. I need not have worried. At 63, I half expected to look awful, but I could not stop smiling as soon as I saw myself fully dressed. Cindy is a perfectionist and is so professional at what she does; she knowns how to get the best out of you and the range of clothes, the high-quality wigs, shoes, and jewellery, and the studio where she takes the photographs all add to the experience. The most important thing though was that the entire session was like being with a friend helping you test the limits and encouraging you to be the person you wanted to be. 
On my second visit, we pushed the barriers a bit. I wanted to do something different, and Cindy delivered a 1920s and a 1940s look that was just beyond anything I could have expected. The 1940s look was the highlight so far for me. As I look at the photos, I find it hard to believe it is me, but they are a fantastic reminder of one of the best experiences I have ever had. I can't wait to go back.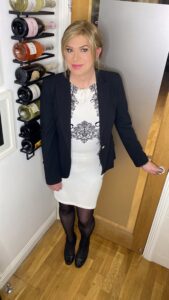 Having had a long and varied life as a T Girl I never saw myself as someone who who would need or want to go for a makeover. How wrong I was. When I finally decided that age was catching up with me and that I could do with some help and that maybe there may be ways to improve things, I began to reconsider. Off I trundled to the place so many girls recommended, Boys Will Be Girls. I have now been many times and on each occasion have learned more and more about the art of makeup, and broadened my understanding of how I can best use or expand my own wardrobe. I still remained stunned how Cindy manages to shave the years off of me. On my 3rd and 4th visit I was amazed to see the girl who I used to be about 15 years ago staring back at me. A real customer focussed experience, that is both relaxing and respectful it never loses sight of the fact that the whole thing should have a strong element of fun. I've got a lot of my old confidence back now and overall I always find myself thinking what could we achieve next time.
Massive thanks to Cindy and Victoria